KNOW this feeling or wish you did? You're relaxing in the pool at a luxury hotel, enjoying the views. The last thing you feel like doing is getting out so you can top up your drink.
Enter swim-up bars, which allow you to order a round without leaving the pool.
Here is a list of the The World's Coolest  swim-up hotel bars. Cheers!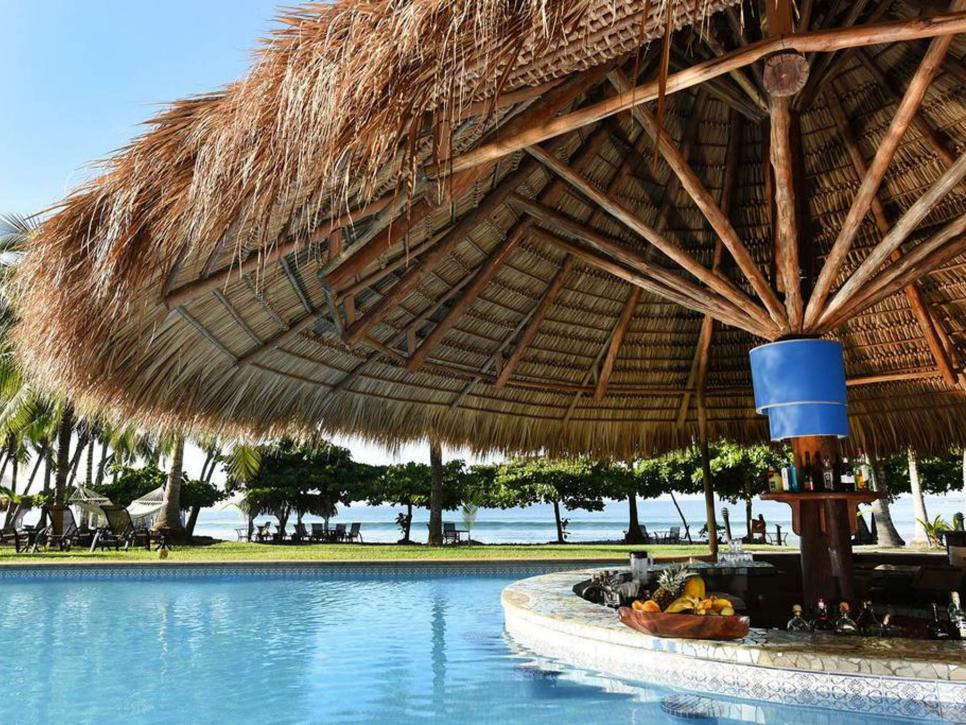 Hotel Punta Islita, Costa Rica
This luxury resort's infinity pool includes Harry's Bar, a swim-up bungalo with tropical cocktails and the best view of the Guanacaste coastline. For something different, order the resort's signature Morena Mia, a cocktail with sugarcane liquor.
Four Seasons Hualalai, Hawaii
There are many pools for the whole family to enjoy at the Four Seasons Hualalai, but thePalm Grove Pool is just for adults. Take a seat at one of the swim-up bar's underwater benches and order the resort's signature alcoholic shaved ice.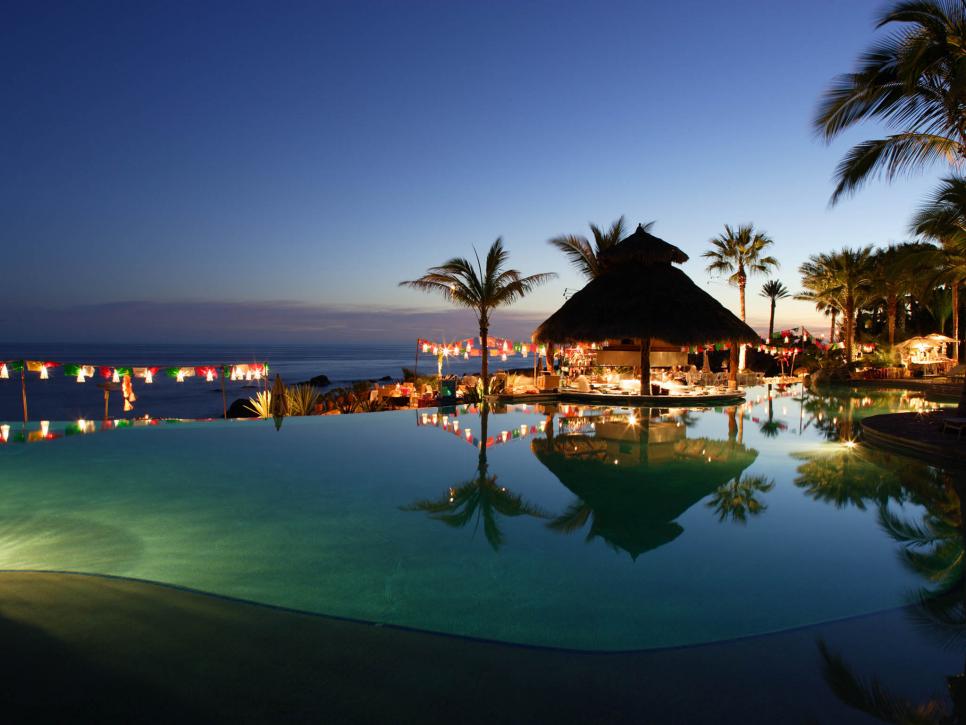 Esperanza Resort, Cabo San Lucas, Mexico
The resort's private residence club, The Palapa, features a pool with incredible views of the Sea of Cortez and a swim-up bar serving up authentic Mexican fare.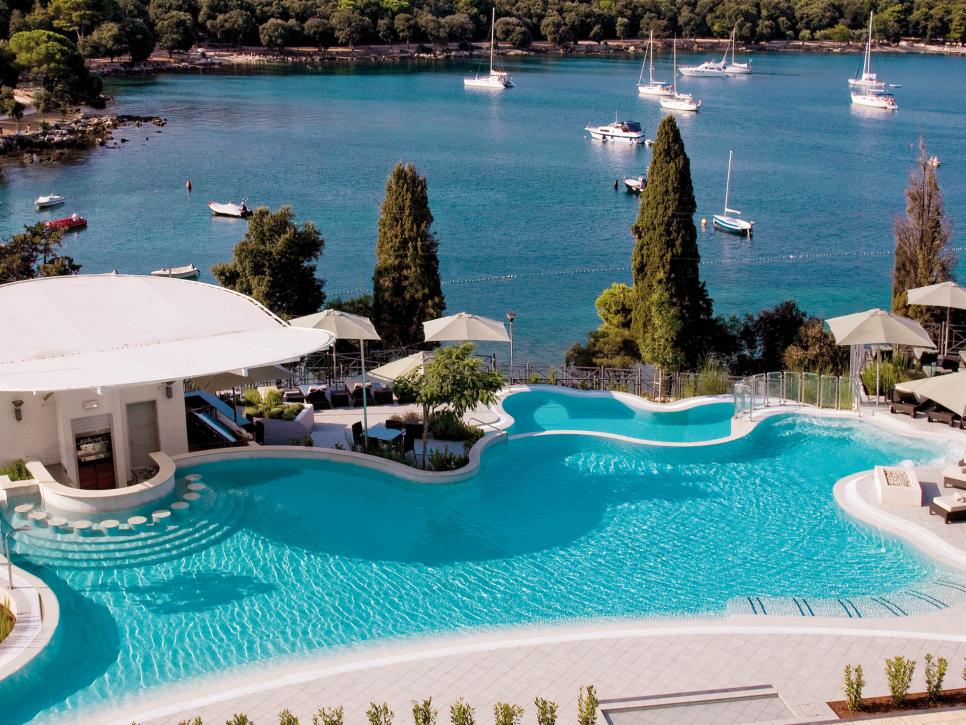 Hotel Monte Mulini, Croatia
Just in case the view of Lone Bay isn't picture-perfect enough, you can sip on a cooler at the Hotel Monte Mulini's sleek, modern pool bar while watching the boats sail by. Total relaxation.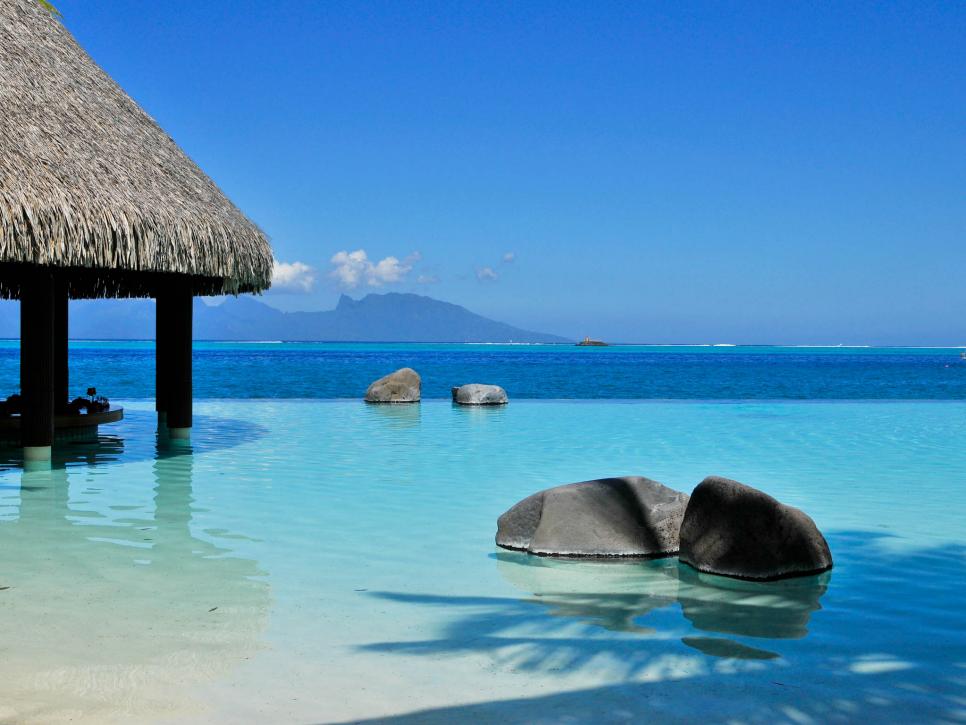 InterContinental Tahiti Resort & Spa, French Polynesia
If your idea of a solid vacation is toes in the sand and a frozen drink in hand, this is the place for you. Le Lotus pool at the InterContinental Tahiti Resort has a sand bottom, fully stocked swim-up cabana plus an incredible view of Moorea Island.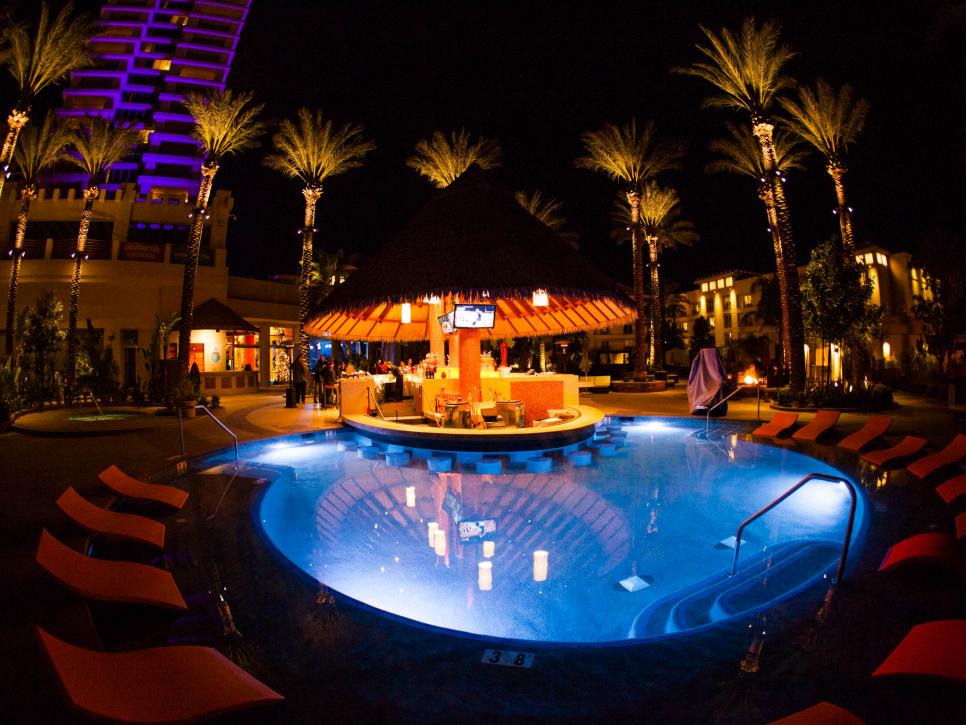 Harrah's Resort Southern California, San Diego
Harrah's Resort Southern California is home to a series of pools, including Dive Bar, the only swim-up pool bar in San Diego. Every Sunday, guests are invited to Dive Day Club, which is also open to the public. Enjoy music from world-renowned DJs, grab a drink and head down the 400-foot lazy river.
Four Seasons Maui, Hawaii
Not to be outdone by the Four Seasons Hualalai, this other Four Seasons Hawaiian property features the Serenty Pool oasis. Swim up to the poolside cabana for specialty cocktails while checking out the panoramic views of the island of Lanai and the West Maui mountain range.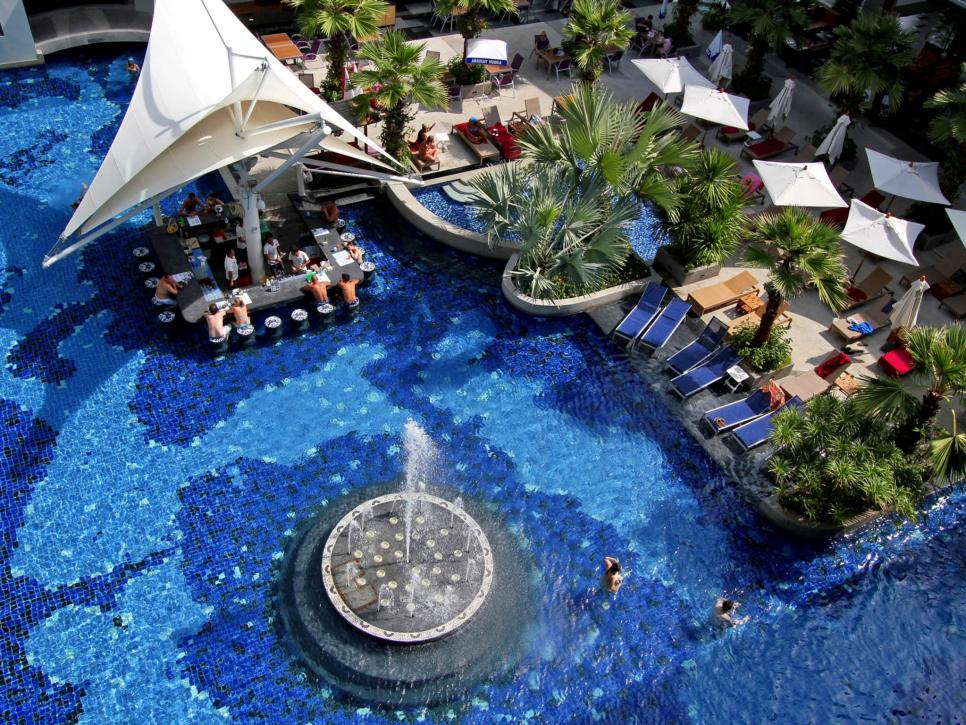 The Kee Resort, Thailand
Not only does the swim-up bar at The Kee Resort feature tasty tropical cocktails and smoothies, there's an in-pool dining table to sit and snack.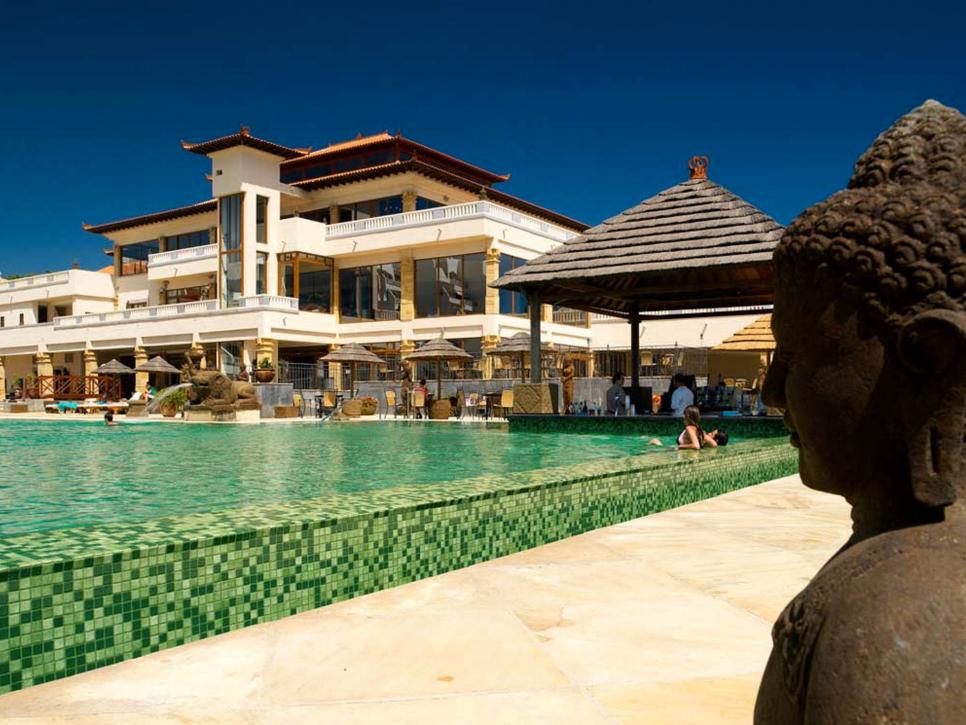 Regency Country Club, Canary Islands, Spain
If you get too much sun in the giant and gorgeous green, tile infinty pool at the Regency Country Club, just scoot under the bar for shade and cool off with a cocktail.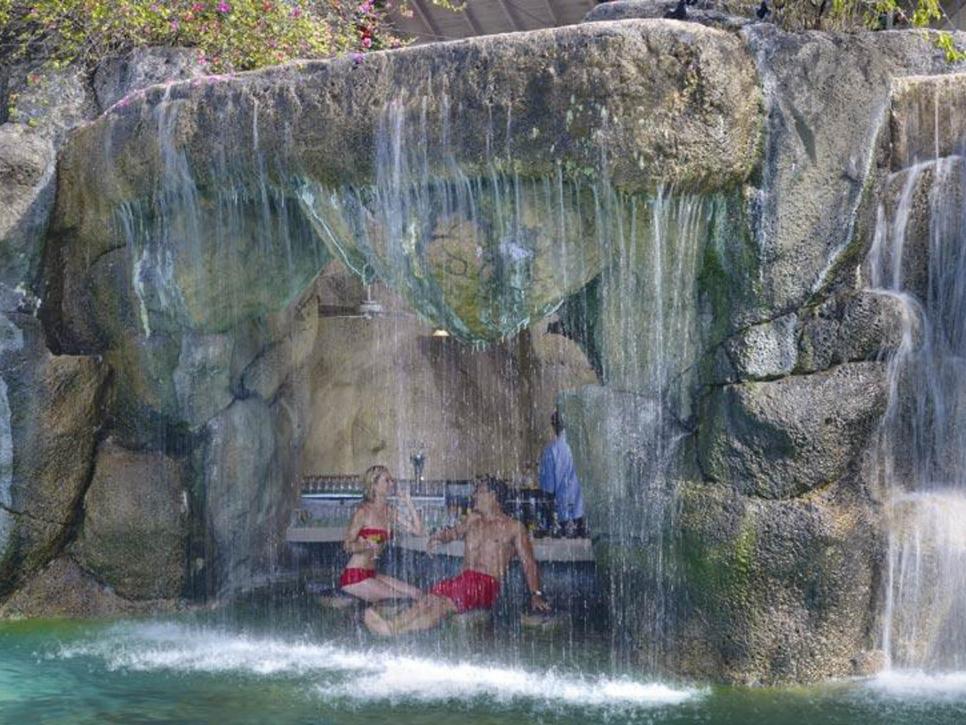 Crystal Cove Resort, Barbados
Most swim-up bars have a fun, tropical thatched cabana. Crystal Cove Resort has a swim-up cave. Cool off after too much sun with a swim through the grotto's waterfall and order one of the bar's icy cocktails.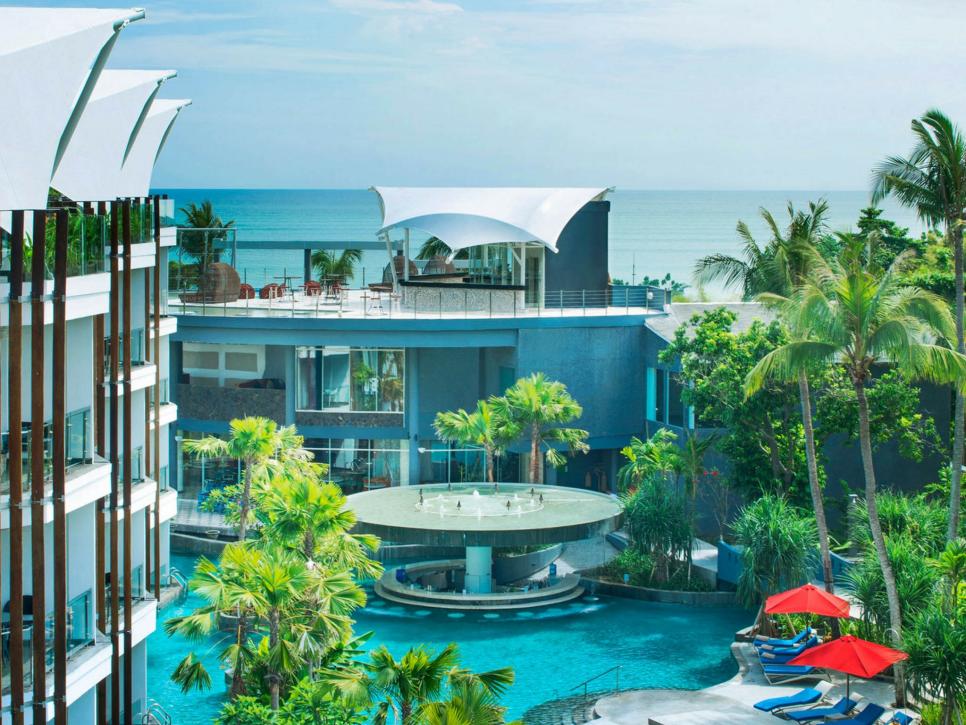 Le Méridien Bali Jimbaran, Indonesia
Le Méridien Bali's pool isn't just a pool. It's a massive saltwater lagoon measuring nearly 14,000 square feet. Need to fuel up after a swim? The swim-up bar is stocked with comfort food snacks and unusual cocktails.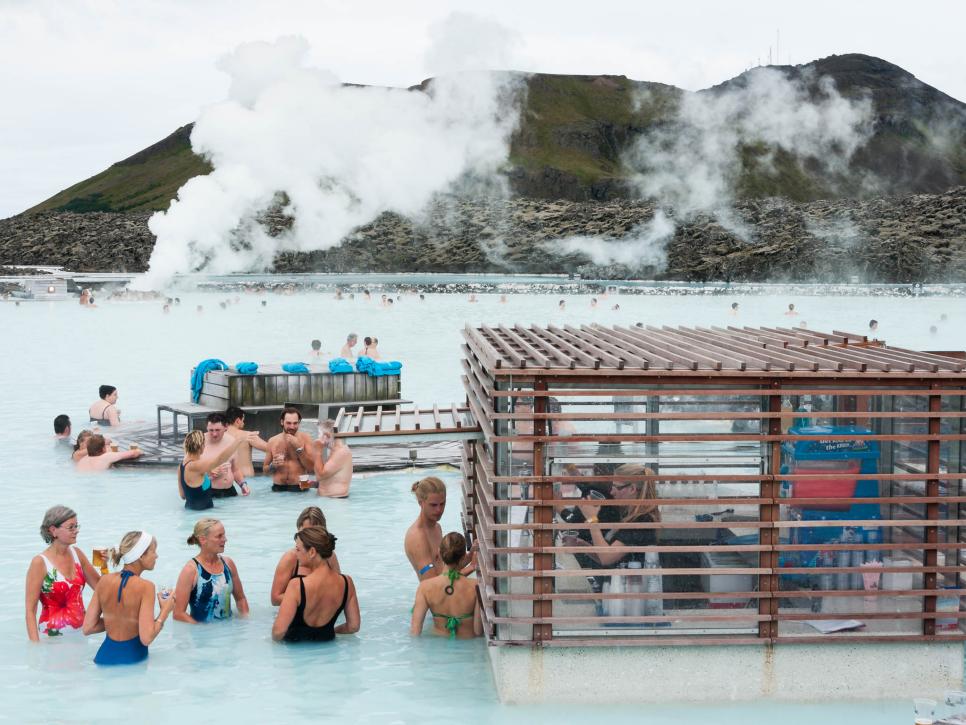 Blue Lagoon, Iceland
Iceland may not be the first country that comes to mind when you think about a swim-up bar, but the famous Blue Lagoon geothermal spa has a swim-up bar featuring ice-cold slushies, beer and wine.
Kempinski Hotel & Residences Palm Jumeirah — Dubai, United Arab Emirates
Found on Dubai's iconic palm island, the Kempinski Hotel & Residences Palm Jumeirah offers a real taste of opulence. The luxury hotel complex offers spectacular views of the city's skyline across the water from a private beach. But with temperature control, palm trees and surrounding tropical gardens, the pool is where you'll want to spend your time under the hot sun, which luckily comes with a stylish swim-up bar.
This article was originally published on: https://www.travelchannel.com